Mooring ropes
Steel wire ropes
Anchors & anchor chains
Katradis has a long and distinguished history which goes back to the first half of the twentieth century. The company was established in 1936 by Konstantinos Katradis, operating back then as a ship supplier specializing in high quality mooring ropes.Over the years we have developed extensive expertise in the design and development of synthetic mooring ropes, which is till today the mainline of products.
The factory located in Greece covers an area of 30000m2, is one of the most technologically advanced factories in Europe, manufacturing top quality ropes such as Double braided, Siri UHMWPE (ULTRA High Molecular Weight Polyethylene), Aramid, LCP (Liquid Crystal Polymer) and others.Katradis also supplies a wide range of steel wireropes for shipping, fishing and industrial purposes. The steel wire ropes comply with the requirements set by ABS, API (American Petroleum Institute), DNVGL and Lloyd's Register.
Stock locations
For the convenience of the vessels, the products are stocked at the following major ports around the world:
Egypt (Alexandria, Port Said, Suez)
South Africa (Durban, Cape Town)
Singapore (Singapore)
Korea (Pusan)
China (Hong Kong, Shanghai, Qingdao, Zhenjiang & other ports)
Belgium (Antwerp, Zeebrugee)
Germany (Hamburg)
Netherlands (Rotterdam, Amsterdam)
Spain (Algeciras, Cadiz)
Turkey (Istanbul)
Bulgaria (Varna)
Cyprus (all ports)
U.A.E. (Fujairah, Dubai)
Canada (Montreal)
USA (Houston, New Orleans, New York)
Panama (Panama)
Besides supplying you with the most up to date marine ropes world wide, Katradis is also providinga wide range of services:
Planning & management of mooring
Support for optimal mooring line selection
Katradis Help Desk Team will be assigned to your project to work as close with all parties involved.
Mooring System & Line Management Plan according to MEG4 (MSMP & LMP)
'Prevention At Sea', οur expert are there to organize your Mooring System & Line Management Plan and provide you with tools and services for the effective preparation according to MEG4 Guidelines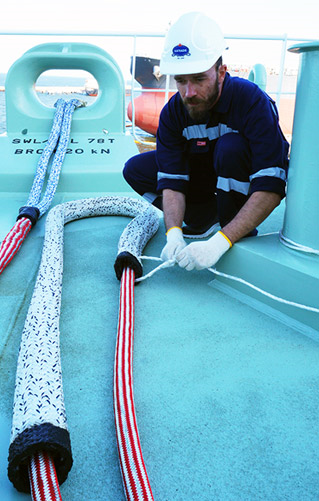 Incident Prevention
Training Courses
Training of your crew and executives in safety, maintenance, inspection and management of your mooring lines according to all relevant standards. Training can take place either on-site or at your head-offices.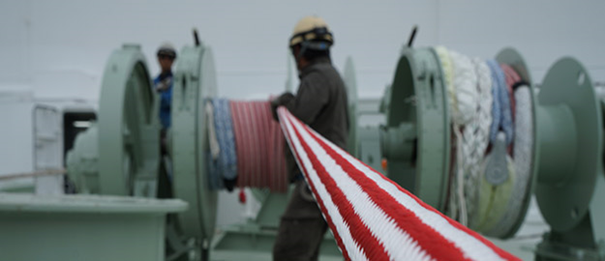 Simple and easy instructions for enhanced understanding of guidelines
The training courses include instructional videos and presentations, easy-to-fill checklists for on board procedures and online technical support.
Rope Health Monitoring
On board visual inspection and audit
We assess the condition of your mooring lines worldwide. Our Katradis Team can perform on board visual quality inspections and audit your mooring operation.
Residual strength testing and line condition analysis according to MEG4 & ISO/CI standards
We can evaluate precisely the remaining operational life of your mooring lines.. All testing will be done according to the latest OCIMF & ISO/CI standards.
For the latest innovations and updates please check the web page: www.katradis.com