At Pres-Vac Engineering, We Speak Marine
For over 50 years, Pres-Vac Engineering has been a respected name in the marine industry. We have installed over 200,000 valves. We are the largest global supplier of high-velocity pressure/vacuum valves and venting systems used in transporting volatile organic compounds (VOC´s).
We offer the widest and most comprehensive range of pressure-vacuum valves available anywhere in the world today.
Our experience means that we can always offer you the best solution for your specific tank venting requirements. Our solutions are innovative, reliable, fully tested, matched to your specific needs and always comply with all standards and regulations. We offer you unparalleled experience, advanced research and engineering capabilities, world-wide service and support and a globe-spanning network of representatives, agents and partners.
The new PV-ECO & PV-VOC
The PV-ECO and the PV-VOC are designed based on the experience gained by Pres-Vac over the last 60 years. They are designed using the latest technologies but most importantly, the PV-ECO and PV-VOC are designed based on customer feedback. Over the years, Pres-Vac has had in-depth discussions about issues regarding venting of cargo tanks with major ship owners, yards, and classification societies.
The PV-ECO and PV-VOC continue the tradition of tough and durable marine products that Pres-Vac is renowned for, ensuring that the customer receives a product with a long life time and stable performance.
The PV-ECO and PV-VOC are designed on the same framework, but have widely different performance characteristics, enabling customers to use the two valves for different applications.
PV-ECO: The Chemical Tanker P/V Valve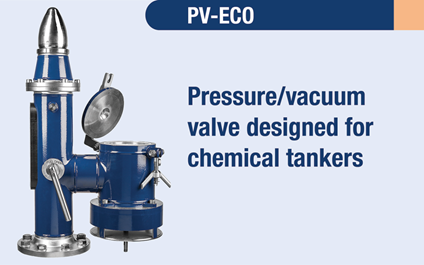 The PV-ECO is designed for use on Chemical Carriers and Product Carriers addressing the
special requirements for P/V valves. The PV-ECO offers:
o Superior performance to keep costs of the venting system down.
o Configurability to match the requirements of the yards and owners.
o Low cargo emissions to reduce loss of cargo during transit.
o Approval to work for long pipes, increasing the flexibility in the piping design for the yard.
o Simplified maintenance, reducing disassembly time by 60%.
o Lower number of parts, lowering the maintenance cost.
PV-VOC: The Crude Oil Tanker P/V Valve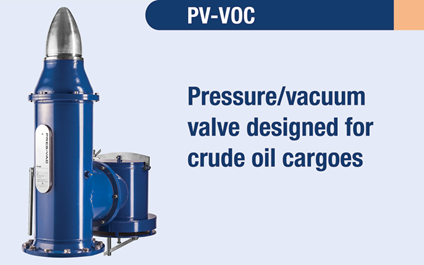 The PV-VOC is designed to meet the requirements that larger Crude Oil Carriers have for P/V valves. The PV-
VOC is designed to reduce the amount of cargo vapor by implementing a special 2-step opening sequence.
PV-ECO and PV-VOC: Designed for Superior Performance
Maximum Capacity
The PV-ECO is designed to cater to the venting needs of Chemical Carriers and Product Carriers. The PV-ECO valve covers a minimum pipe diameter range of DN 65 to DN 100 and a venting capacity from 400 Nm3/h to 2,600 Nm3/h. The opening pressure setting is adjustable on both the PV-ECO and PV-VOC and goes from 10 kPa (1.45 psi) up to 70 kPa (10.15 psi).
The PV-VOC covers a venting range from approx. 2,600 Nm3/h to approx. 12,000 Nm3/h and a minimum pipe diameter range from DN 125 to DN 250 aiming at the need of VLCC and off-shore installations. Larger pipe diameter can of course be used. By optimizing the design of the inside of the housing it has been possible to increase the venting capacity by approx. 30% compared to the Pres-Vac HS-ISO valve.
Long Pipe Length from Tank to Valve
The PV-ECO has been optimized to work on a pipe length of 50 meters. This gives the shipyard additional flexibility in designing venting solutions, thereby minimizing investments, reducing maintenance costs and optimizing crew safety.
High Tank Pressure
Both the PV-ECO and the PV-VOC can be configured to have an opening setting of up to 70 kPa, enabling very high tank pressure that works as a catalyst for low cargo emissions.
Auxiliary Equipment
Pres-Vac Engineering also manufactures a wide variety of other related products, such as aircaps and air-release/vacuum breakers, liquid overfill protection devices, Test rigs, and valves and venting equipment for various other marine and on shore applications.
Aircaps and Air Release / Vacuum Breaker Valves "Onboard Test Rig"
Aircaps and Air Release / Vacuum Breaker Valves serve two purposes: tank venting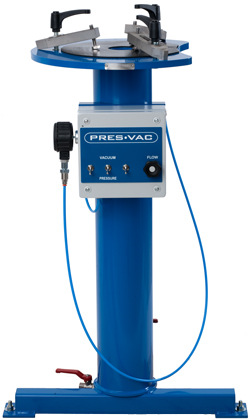 and prevent water from entering the tank. Aircaps are installed on service tank air pipes. A wire mesh prevents flames from entering the tank. Pres-Vac offers the following Aircaps and Air Release / Vacuum Breaker Valves.
Liquid Overfill Protection Devices
Liquid overfill protection devices are designed to prevent overpressurization of tanks due to overfilling, which may occur should the high level alarm float be punctured. Not using an overfill protection device could result in a ruptured tank and massive pollution.
Onboard Test Rig
Onboard test rigs are used to verify the set-pressure after maintenance as well as to check for and measure leakage.
Ejectors
Ejectors are not harmed by particles that would destroy ordinary pumps. They are ideal for handling contaminated liquids. Pres-Vac ejectors are sturdy and available in two pressure ranges: low pressure from 2-6 bar and high pressure from 5-15 bar.
More to find at: www.pres-vac.com