Keeping ships in business
Hydrex offers turnkey underwater repair and maintenance solutions to shipowners wherever and whenever they are needed. Our large and multidisciplinary team will help you find the best solution for any problem encountered with your ship below the water line. We will immediately mobilize our diver/technicians to any location around the globe to carry out necessary repair work without the need to drydock.
To be able to provide a large part of this training in-house and to offer the fastest possible service to customers, Hydrex offices have fast response centers where an extensive range of state-of-the-art logistics, tools and diving support equipment is available at all times for the Hydrex underwater teams. These fast response centers enable Hydrex to mobilize diver/technician teams immediately to all kinds of operations and perform underwater repair and maintenance work in a very tight timeframe.
Seal Repair and Replacement
Hydrex has carried out repairs and replacements on all types of seals underwater and on site for a number of years now. Hydrex has developed the technology that enables stern tube seal replacements to be done on site and underwater.
Thruster Repair and Replacement
Hydrex can assist shipowners with almost any problem they encounter with their vessel's thruster. A wide range of repair or maintenance work can be carried out to all types of thrusters.
Propeller Repair and Modification
The Hydrex R&D department has developed a repair system that allows Hydrex to perform permanent underwater repairs to every type of propeller in dry conditions. By straightening propeller blades or cropping them, Hydrex can also restore the propeller's balance and bring its performance back to its optimum condition.
Hull Repair
Hydrex on site hull repair services include the renewal of both small and large areas of damaged hull plating. These repairs can be carried out above or below water, according to the circumstances.
Rudder Repair
Hydrex can perform permanent repairs on any type of rudder while the vessel remains at anchorage and cargo operations can continue.
Underwater Inspections
Building upon conventional technical skills and know-how while also taking advantage of the latest technology,
Hydrex offers a unique hull monitoring service to its customers. This gives shipowners total control of their ship's hull condition and consequently its performance, with only a minimum of work on their part.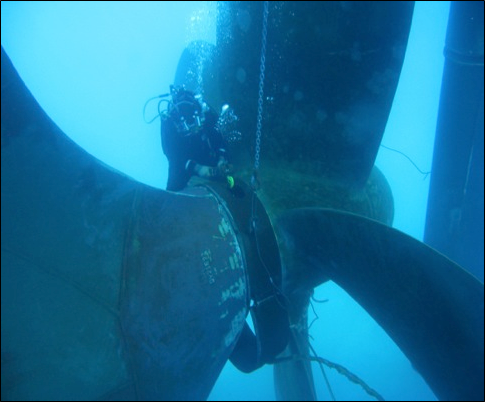 Propeller Cleaning
At current fuel prices, the fuel penalty from a rough propeller adds up to a high cost. Conversely, the savings attainable from keeping a ship's propeller clean and smooth are significant.
Thanks to its network of offices and service stations, Hydrex can offer propeller cleanings on a worldwide basis.
First for Underwater Repairs
If you need urgent help, mail us (hydrex@hydrex.be) or call our emergency number: +32 3 213 53 00.
We are available 24/7. www.hydex.be