The family-owned manufacturer of who keeps the complete production process in house
Shipyards, ship owners, navies, engineering companies, chemical and petrochemical plants, desalination plants, power stations, steelworks, etc are the customers of Pompe Garbarino S.p.A., leading company which specializes in the production of centrifugal and positive displacement pumps.
Founded in 1932 by Paolo Garbarino, Garbarino has two factories in Acqui Terme (AL), Piedmont, Italy, and, from 1994 a sales branch in Milan. The company maintains its "core business" in the marine, offshore and naval fields and has diversified its production facing also the industrial market.
Instead of adopting mass production methods, Garbarino has chosen the technological search in sophisticated and demanding fields. The attention is focused on the constant improvement of the products designed according to the customer's requirements and selecting the most suitable materials for the different applications.
Garbarino offers an excellent service to customers in terms of technical consultancy and after sales service ensuring the availability of engineers on site. Spares delivery and product replacement can be guaranteed in very short time thanks to the huge capacity of the warehouse, one of the best strength's points of the company.
Marine field
Supplier of major shipyards in Europe and Asia, ship owners worldwide, world market leader in cruise shipbuilding
Naval field
Official supplier of the Italian Navy since 1950, supplier of several foreign navies
Industrial field
Pumps specifically manufactured for industrial applications and different type of plants who apply centrifugal pumps in their daily operation:
[table id=1 /]
Horizontal pump
Use
Fresh and sea water, condensate, oils, chemical and petrochemical products.
Main applications
Shipbuilding industry, heating plants, air conditioning system, aqueduct, effluent treatment plant, firefighting, petrochemical plant.
Main Features
Pump: centrifugal type, end-suction single volute casing, single flow and axial inlet.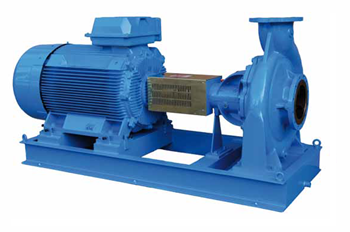 Impeller: high efficiency, close type, statically and dynamically balanced. Low axial thrust thanks to impeller provided with balancing holes.
Mounting system: shaft supported by radial and thrust type bearings placed in an oil bath bracket or, upon request, by self lubricated or grease lubricated ball bearings. The bracket is usually made of cast-iron, bronze or stainless steel for special executions (non magnetic pumps).
Seal: single mechanical seal to DIN 24960. Special mechanical seal or cartridge type for specific application or aggressive liquids. Possibility to install soft-packing with external flushing. For temperature higher than 120°C, it is possible to fit the pump with a cooling chamber.
Self-Priming
Small and medium size pumps can be equipped with built-in priming element; all sizes can be supplied in self-priming version with an additional air ejector.
Back pull Out
It is possible to remove the rotating components without disturbing pipes, pump casing and motor by using a flexible spacer coupling.
Base Plate
The base plate is generally built of welded steel and it can be provided with drain-pan for possible drippings.
To comply with special requirements (nonmagnetic and/or anti vibration) it can be manufactured in stainless steel (AISI 316) and equipped with anti-vibration and/or anti-shock resilient mountings.
Special Versions
Special versions according to Naval Rules are also available: shock-proof, vibration-proof, noise-proof, nonmagnetic.
Vertical Inline Pump
Use
Fresh and sea water, condensate, oils chemical and petrochemical products.
Main Applications
Shipbuilding industry, heating plants, air conditioning systems, aqueducts, effluent treatment plants, firefighting, petrochemical plants, etc.
Main Features
Pump: centrifugal type with volute casing, vertical construction, single stage, single flow, in line flanges.
Impeller: high efficiency, close type, statically and dynamically balanced. Axial thrust balancing by means of annular chamber with balancing holes located behind the impeller.
Mounting system: shaft supported by radial and thrust ball bearings either grease or self-lubricated. The bracket is normally made of cast-iron or manufactured in bronze or stainless steel for special executions (non-magnetic pumps).
Seal: single mechanical seals to DIN 24960. Special mechanical seals or cartridge type, for specific application or aggressive liquids. Possibility to install soft packing with external flushing. For temperature higher than 120°C, it is possible to fit the pump with a cooling chamber.
Self-priming: some listed models can be supplied with a self-priming element either with liquid ring or with air ejector.
Back Pull Out
It is possible to remove the rotating components without disturbing pipes, pump casing and motor by using a flexible spacer coupling.
Base Plate
The base plate is usually cast with pump casing for small and medium size pumps in order to increase the structural stiffness. For larger pumps a welded steel base plate is provided.
Motor Frame
The motor frame supporting the electric motor is normally made of welded steel.
For special executions (nonmagnetic) it can be manufactured in stainless steel.
Inline Double Suction Pump
Description
Single stage vertical centrifugal pumps in spacer coupling design. Casing with in-line flanges and with high efficiency double inlet impeller, low NPSH required and balanced axial thrust, flow rate up to 3.500 m3/h.
Main Application
Fresh water, sea water, industrial water, condensate, brine, oils and other clean liquids.
Shipbuilding industry: ballast, hull and general services, cooling, circulation. Land based industry: circulation, cooling, water supply and general services.
Versions
MU-LDS pumps are available in six sizes. Wetted material can be in cast iron, nickel-aluminum bronze, stainless steel or special alloy. Automatic priming system execution by means of ejector or vacuum pump.
Special executions according to Naval rules, shock-proof, noise-proof, vibration-proof, nonmagnetic.
Main Features
MU-LDS pumps are designed in order to offer best possible performance and lowest possible maintenance.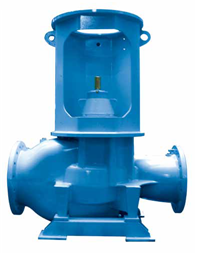 Back Pull-out design allows maintenance on internal parts without removing motor and pipes. Easy replacement of bearings and seal without pump dismantling.
Casing: casing is of the double volute type to reduce radial load on impeller and ensure maximum working life of bearings and mechanical seal.
Mechanical seal: high quality mechanical seal (silicon carbide/silicon carbide/Viton) for a wide range of applications. Mechanical seal is cartridge design for easy installation and removing. Soft packing is also available.
Bearing bracket and motor stool: external grease bearings in special bracket specially designed for ease of
maintenance. Bracket design allows the replacement of mechanical seal and bearings without dismantling the pump completely. The motor stool in welded steel to reduce vibrations has got a wide opening to facilitate maintenance.
Back Pull Out System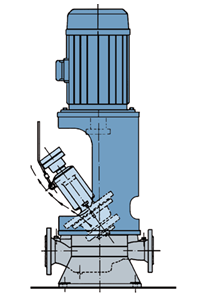 Vertically Suspended line-Shaft Pumps
Description
The VS serie pumps are suspended vertical line-shaft, single stage pumps with base plate. The main components (casing, cover, pump flanges etc.) are based on our MU or MCA series pumps.
Applications
The VS serie pumps are used to pump clean or dirty fluids that may contain suspended abrasive materials. They are especially useful for many industrial processes, supply drainage, etc..
Thanks to their versatility and material diversification, the VS serie handle and pump a wide range of fluids.
Versions
The standard pumps of the VS serie are manufactured with closed impeller and rectangular base plate. The range is wide and includes different impeller options and base plate shapes.
They can be adapted to any type and size of tanks, as each model is available in 60 different models and shaft lengths up to 7,5 m.
Manufacturing
The remarkably sturdy design of the VS serie pumps offers many significant features, carefully chosen and calculated, making these pumps comply with the most demanding specifications.
Motor frame and bearing box: motor frame ensures overall stiffness and motor support. Alternative solutions with grease lubricated dual ball bearing for standard execution and with bearing cooling chamber for high temperature fluids are available.

Base plate: rectangular base plate in standard execution. Optional versions with circular base plate, according to DIN, ANSI or on drawing measures particularly useful for installation in cylindric tanks are also available. The over thicknessed base plate is calculated to support the overhang and the assembly stresses.
Bushing and tightness: the pump standard sealing on mounting plate is by means of a lip sealing ring. Alternatively also the following executions are available: soft packing – mechanical seal. The standard bushes are lubricated by the pumped fluid. They can also be lubricated by grease, oil, water or other fluids through an external system. Bush grooves ensure the lubrication.
Axial coupling and adjustment: the two-half flexible couplings between the motor and the pump prevent the motor from pump stresses. Alignment between the pump and the motor is not required since the coupling lantern is designed to avoid misalignments. The two sections of the pump shaft are coupled through an intermediate coupling.
Pipes and flanges: flanged column pipe and delivery pipe of VS series are made in welded steel. The discharge flange is UNI-PN 10 standard with "RF" finishing. Maximum length of each column pipe is approx. 1250 mm., according to the pump size. The flanged pipes are connected to each other through an intermediate bearing housing the bush to guide the pump shaft. The column pipe has holes drilled in its lower part, reducing vortex effect once the fluid level decreases.
Pump suction: the wet well standard version is with flanged filter. Alternative executions with suction bell or feeder line for wet well or with 90° elbow pipe with lower support for dry well, are available.
Recessed impeller torque flow pump
Description
Thanks to the shape of the impeller and to its recessed position in the casing, MCA pumps are suitable for pumping viscous and pasty liquids containing suspended solids.
Main Features
Impeller: the impeller is of open type with radial blades. The impeller is provided with back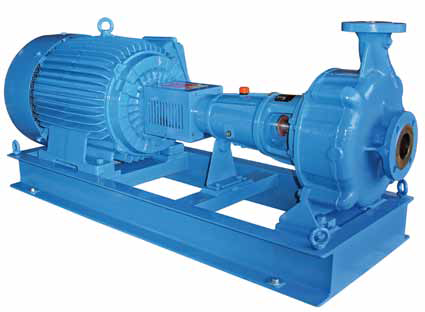 vanes to balance the axial thrust and the pressure in the stuffing box area.
Casing: volute type with ample section end suction and top discharge nozzles. The flanges are NP 10 according to UNI-EN-DIN-JIS- standards.
Shaft sealing: basic pump version is mechanically sealed but soft packing with optional external flushing with clean fluid can be fitted. In case of dangerous liquids pumps can be provided with double mechanical seals completed with barrier system. For high temperature the pump can be provided with a cooling chamber. The fitting of single or double acting mechanical seals flushed from external source by suitable media can also be possible.
Materials
Standard constructions are in cast iron, carbon steel, stainless steels. Any other material combinations can be supplied.
Applications
Sewage treatment plants, paper industry, food and sugar industry and generally to convey all liquids with suspended solids.
Performances
Capacity up to 500 m3/h.
Total dynamic head up to 100 meters.
Speed from 750 to 3500 rpm.
Working Principle
The special impeller shape and its position in the back part of the casing operates in such a way that the solid particles in suspension flow through the casing without touching the impeller directly.
Side Chanel Pump
Applications
For drinking water and industrial purposes, for sea water, for automatic system with hydrophore tank, for conveying acid and alcaline liquids, petrol and light oils, for condensate and liquid with vapours, for food and pharmaceutical products.
Design Feature
BT pumps are self-priming side channel multistage pumps. The impellers are star shaped, hydraulica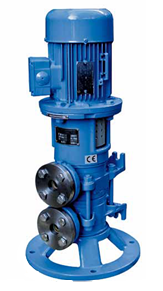 lly balanced to reduce axial thrust on the bearings. Bearings are external, life grease lubricated. The pumps have a very low NPSH value that allows operation with suction lift up to 8 meters. Their working principle makes these pumps particularly suitable to transfer liquid gas/vapour mixtures. Basic design pumps are mechanically sealed. It is possible to fit double mechanical seals when handling hot liquids which may solidify, toxic, aggressive and corrosive media. In this case the seals are flushed from an external source with a fluid compatible with pumped medium at a slightly higher pressure.
Operating Pressures and Temperatures
Up to 120°C: 40 bar
Above to 120°C: 16 bar
Max operating temperature: with mechanical seal 160°C
Minimum operation temperature: -10°C
Materials
Construction is provided in the following materials: cast-iron, different types of bronze and stainless steel. Special constructions according to Naval Rules: shock-proof, noise-proof, vibration-proof, nonmagnetic versions.
Main engine lubrication pump, single or multiple stage
Application
Main engine and general machinery lubrication pump.
Construction
Vertical submerged pump with external motor with base plate for oil pit installation. High efficiency closed balanced impeller to reduce load on thrust ball bearing. The concentric diffuser avoids radial load on impeller and make the pump reliable throughout its operational life. Ball bearing and shaft bushing are lubricated by the pumped oil to reduce maintenance. The length of the pump can be sized to the required specific installation.
The base plate can be manufactured according to the customer requirement.
Performance
Capacity: 100-550 m3/h
Head: 30-75 m
Temperature up to 90°C
Suitable for all type of lube oils
Fire Fighting Naval Pumps
Description
The electric pump mod. MM 100/125 for 65 and 130 T/h with horizontal split casing consists of a pumping body of
the centrifugal type and of two opposite impellers. The division of the body is on the horizontal plane in order to reduce the axial thrust to minimum and to simplify maintenance.
The electric motor is an asynchronous three-phases type, connected to the pump by means of an elastic coupling mounted on a frame structure which is made of electro welded steel.
The special balancing of the pump and the specific construction of the base determine the sturdiness of the unit which permits to reduce to a minimum the structural noise level transmitted to the hull.
Normally, the base is fixed to the hull after having introduced four resilient blocks which filter the noise transmitted by high frequencies.
Approval Test are carried out according to the standards shown in table UMM 1008, May 1984 edition, of Navalcostarmi: inspection and checking of integrity, test of hydrostatic pressure, test of voltage applied between electric phases, performance test, test of sealing and alignment, endurance test over 700 hours with more than 100 start-ups, test of operation in inclined position, detecting of self-induced vibrations and structural noise, impact and mechanical ambient vibration test, test of performances after impact and vibrations, disassembling and restoring.
Materials
– Upper/lower body: GcuSn10Zn2Ni2 UNI 7013-72 alloy
– Shaft: stainless steel X2CrNiMo 1712 UNI 6900-71
– Impellers: GcuAl11FeNi4 UNI 5275-63 alloy
The hydraulic body presents special features: its structure ensures maximum reliability both for shock test and for possible corrosion due to electrical and fluids dynamics phenomena. Furthermore, the hydraulics of the pump body permits regular running both for 65 T/h and 130 T/h flow-rate. All components are perfectly the same including the centrifugal impellers, a big advantage for spares parts supplies. There is practically no need for maintenance since the bearings are grease-lubricated forever. The sealing is a mechanical type and enables running of the pump in opposite direction without any specific problem. As requested by UMM 1008 standards, in case of emergency the mechanical seal can be replaced by a soft packing.
Technical Features 130 t/h
Motor type: 250 M4
Power for continuous operation: 55 Kw
Steady state speed: 1775 rpm
Input power at full load: 96 A
Operation voltage: 440 V
Frequency: 60 Hz
Manometric head: 100 m
Capacity: 130 t/h
Pump weight: 1195 kg
Suction/delivery holes: 125/100 mm
Technical features 65 t/h
Motor type: 225 M4
Power for continuous operation: 45 Kw
Steady state speed: 1770 rpm
Input power at full load: 81 A
Operation voltage: 440 V
Frequency: 60 Hz
Manometric head: 100 m
Capacity: 65 t/h
Pump weight: 1050 kg
Suction/delivery holes: 125/100 mm
Portable Fire Pump
Applications
Marine portable diesel engine pump for emergency services, firefighting and drainage.
Characteristics
Compact and lightweight construction for easy transportation, it can be pushed by one individual with front wheels, or two individuals in case of obstacles can lift it. Self-priming pump with high suction capacity, designed for pumping seawater. Automatic priming, without need of operator action. Control panel with instruments, accelerator and engine stop.
Performance
Fast and automatic priming also with 7,5 m suction lift. Firefighting service: feeding of two UNI 45 fire hoses at 7 bar with 5 m suction height. Drainage service: capacity of 70 m3/h with 5 m suction height.
Pump Design
Centrifugal single-stage pump in light alloy material highly resistant to seawater corrosion. Impeller in nickel-aluminum-bronze, with superior resistance to seawater and cavitation. Oversized stainless steel shaft to minimize deflection due to hydraulic loads. High quality mechanical seal with hard faces, dry-running resistant. Thrust bearing fitted into the pump to avoid axial load on engine shaft. Casing and cover with removable aluminum-bronze wear rings. Nozzles: suction ND 80/UNI 810, delivery ND 70/UNI 810 with valve. External high vacuum pump, driven by belt and clutch; automatic or manual start and stop.
Diesel Engine
Lombardini 3-cylinders 4-stroke diesel engine with indirect injection. Sea water cooling by bronze exchanger with zinc anode. Compact construction, dry air filter, cooled exhaust gas terminal, anticorrosion treatment for marine environment. Distribution by heavy-duty no-maintenance belt. Dashboard with warning lights and acoustic alarm, indication of speed, temperature, battery voltage, working hours. Key electric starting by external battery provided with fast connector. External removable fuel reservoir for 1 hour of uninterrupted operation plus internal fixed reserve tank to avoid pump stop during refueling. Design and setting specific for on board firefighting service.
Standard Accesories
12 V external loose battery loose with fast connector, digital dashboard, valve ND 70/UNI 810 on delivery, external removable 6 liters fuel reservoir with fast connector, vacuum and pressure gauge, lever accelerator, engine hand stop, n. 2 12 V sockets for external utilities, orientable headlight with tripod, 220 V battery charger.
Options
Suction/delivery nozzle as per different standard.
Dimensions and Weight
Length 900 x wide 570 x height 800 mm
Pump ready for working about 190 kg
For more Information please visit: www.pompegarbarino.com